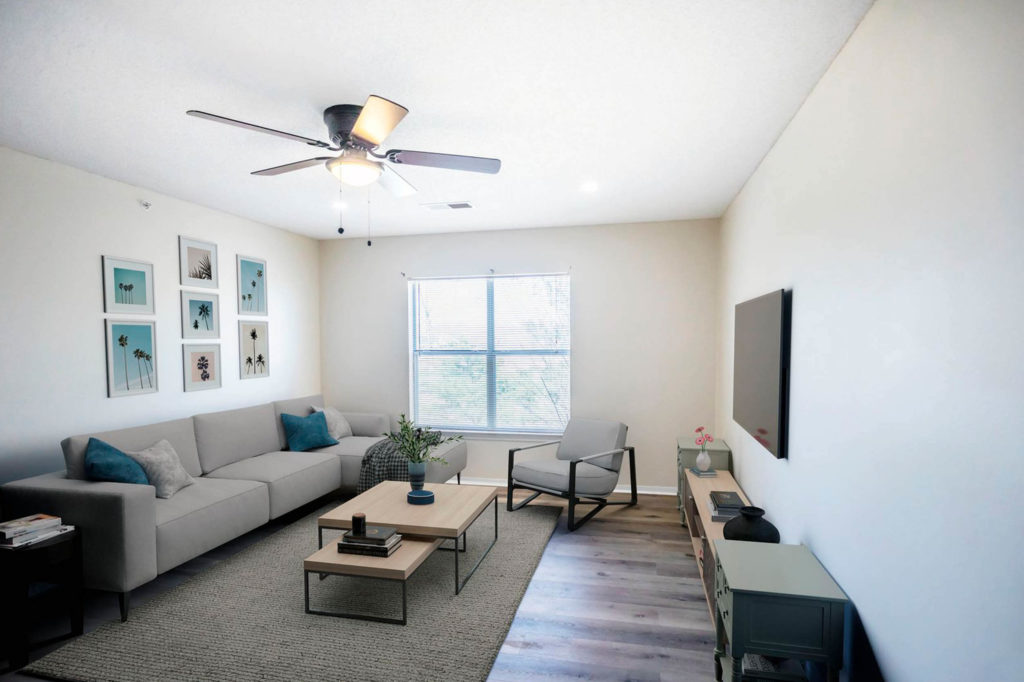 Welcome to Gramercy East, a newly renovated apartment complex in Horn Lake, MS. With one, two and three beds, we have something for everyone. Our renovated apartments include, washer/dryers, new appliances, high hat recessed lighting, new countertops and cabinets, wide plank flooring, and new bathroom vanities. Conveniently located steps from Goodman Road, we're minutes from Southaven, Shelby Farms and downtown Memphis. With Texas Roadhouse, Home Depot, Walmart, Chick-Fil-A, and plenty more just minutes away, you're going to love your new apartment, your new address, and your new home.
We have a resort-style pool for you to enjoy on those hot summer days. Our pool is what makes our apartments for rent such a great experience. It designed with your comfort and convenience in mind. The pool is open 7 days a week so you can swim whenever you have the time. It's design and function is the definition of luxury. The water is clear and warm and the entire pool is surrounded by a sundeck so you can lay out and soak up some rays in between your swim. Swimming is a great way to start or end your day. In the morning, it will wake you up and get your heart pumping before you head out. At night, it will help you relax and unwind. Swap your business suit for a swim suit, and let your stress float away.
Is there anything that sounds more joyful than the sound of kids at play? The happiness on their faces and the sound of bliss in their voices show how much kids enjoy being able to play and engage with friendships in their community. Oftentimes, school and community playgrounds are the foundation of friendships that last years. Long-lasting friendships are not the only benefit of play and playgrounds. Read on to learn more about the benefits of play.
DISCOVER SOME UNIT
FEATURES
Enjoy the convenience of having a washer and dryer in the comfort of your own home with our in-unit laundry amenity. No more trips to the laundromat or shared laundry facilities! With our washer and dryer in-unit, you can easily and quickly take care of your laundry needs.
Experience the ultimate in modern living with our brand new appliances. Our apartments feature state-of-the-art appliances that are designed to make your life easier and more convenient. From sleek and stylish refrigerators to energy-efficient stovetops, our brand new appliances provide the latest in technology and functionality.
Experience the luxury of brand new countertops in our apartments. Our newly updated countertops provide a sleek and modern look to your kitchen and bathroom areas. With a variety of materials and colors to choose from, you can find the perfect countertop to match your personal style and taste.
Our new plank flooring is not only visually appealing, but also provides added comfort to your living space. It is easy to clean, low-maintenance, and can withstand daily wear and tear.
Experience the luxury of walk-in closets in our apartments. Our spacious walk-in closets provide ample storage space for all of your belongings and allow for easy organization of your wardrobe. With built-in shelves, drawers, and hanging rods, you can customize your closet to fit your specific needs.
Enjoy the comfort of ceiling fans in our apartments. Our apartments come equipped with ceiling fans in each bedroom and living room to help regulate the temperature and provide a cool breeze during warmer months. With various styles and finishes to choose from, you can find the perfect ceiling fan to match your personal style and taste.
Our new bathroom vanities not only provide added functionality but also add a touch of luxury to your living space. They offer a sleek and modern look that can transform your bathroom into a spa-like oasis. This highly sought-after amenity is a major selling point for our apartments, providing added comfort and convenience for busy professionals, families, and anyone looking for a modern and stylish.
Experience the modern convenience of high hat lighting in our apartments. Our newly updated apartments feature high hat lighting that provides ample light and creates a bright and welcoming atmosphere. With various styles and placements to choose from, you can customize your lighting to fit your specific needs.
navigate through our virtual tour
7100 Tulane Road, Horn Lake, MS
Working in Memphis or the surrounding area?
Gramercy East is the perfect place to call home. Goodman Road is steps away keeping you close to the restaurants and shopping you need. Gramercy East- close to everything and far passing your expectations.
Renovated Apartment Homes
DON'T HESTITATE TO CONTACT US